The Best In Truck USDOT Signs | The Leaders in USDOT Truck Lettering
The Best In Truck USDOT Signs | The Leaders in USDOT Truck Lettering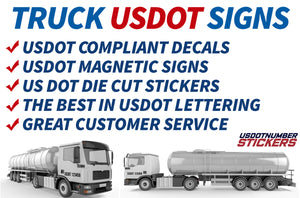 At USDOT Number Stickers, we pride ourselves with being the best in USDOT Truck Lettering. We've been in this business a long time and have constantly improved and innovated our products. We specialize in USDOT Compliant Decals, USDOT Magnetic Signs, US DOT Die Cut Stickers. We are the Best in USDOT Lettering & we provide Great Customer Service (the best in the industry).
We are compliant to all of the laws & regulations implemented by the USDOT & FCMSA and all of our products exceed regulation standards.
If you have any questions, please do not hesitate to contact us. One of our customer representatives would be happy to assist.