2021 USDOT Number Semi-Truck Lettering Decal Sticker Market Prices | How Much to Pay For Custom USDOT Lettering
2021 USDOT Number Semi-Truck Lettering Decal Sticker Market Prices | How Much to Pay For Custom USDOT Lettering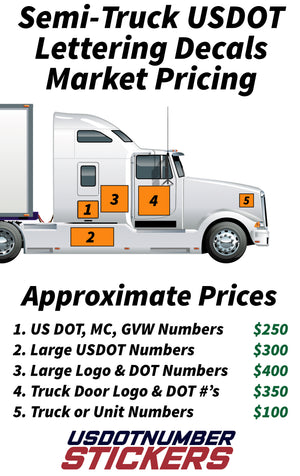 Below are updated USDOT semi-truck lettering market prices for different parts of your commercial vehicle. All of our designed are carefully designed by talented graphic designers and your order will always be reviewed by a professional graphic designer. If you have your logo, allow us to update it or add your regulation numbers to it.
Don't get fooled by extremely low prices you might find on other websites. They say "you get what you pay for" and this is very applicable.
We use the best material, every order is designed by an artist and all of our orders come with UPS 2-Day Shipping.
We would be happy to have your business.