USDOT Number Sizing Tips for Commercial Vehicles | Choose The Right USDOT Size For Your Business
USDOT Number Sizing Tips for Commercial Vehicles | Choose The Right USDOT Size For Your Business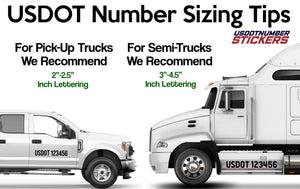 Are you in the market for a USDOT number decal sticker? You've come to the right place!
The minimum requirement to display your unique USDOT number is 2 inch lettering. In some areas like New York City, the minimum is 3 inch lettering.
For most pickup trucks and work trucks we recommend 2" to 2.5" inch lettering. This is because the vehicle surface area is a lot less compared to a semi truck. A single cab Toyota pickup truck won't have the same surface as a Freightliner (Semi-Truck). Also, the requirements for smaller trucks is a lot less especially if you're under 10,001 GVW.
If you are operating a semi-truck (big rig), we recommend displaying your USDOT & all important lettering in 3"-4.5" inch lettering.
As a professional truck driver, you will be passing through a lot of truck scales and weigh stations and your USDOT number visibility is very important. Also, when you get stopped by DOT, they will have an easy time locating your US DOT and other information if it's displayed in large block font lettering.
Pro tip: Combining all of your essential information such as your trucking name, origin, USDOT, MC, GVW is a great way to be US DOT compliant and build brand awareness. This is especially great if you use one of your designs or your own custom logo.
Do you want a custom trucking logo? Allow our graphic designers to help building a beautiful brand logo for your trucking empire!