Example of A USDOT Compliant Sign Decal Sticker Template
Example of A USDOT Compliant Sign Decal Sticker Template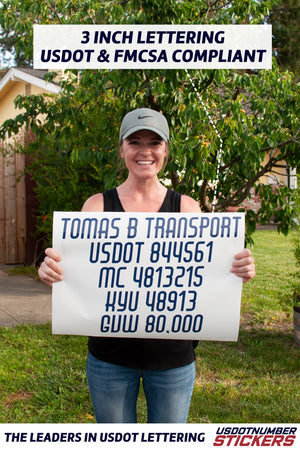 Is your commercial vehicle US DOT compliant?
We are often asked "What do I need to display outside of my motor unit?"
Our response is always "it depends"
I hate being so vague but every trucker's situation is unique. A trucker operating in California will need a to display a business name, USDOT, CA, GVW, VIN number while a trucker in Kansas might only need a USDOT & business name.
One thing for certain is that you need to display your USDOT & business name outside of your commercial vehicle if your weight is 10,001 lbs. This is mandated by the Department of Transportation. This lettering must be at least 2 inches in height and must be visible from at least 50 feet away. It also must contrast with the color of your truck cab.
In the example below, the woman is displaying her business name, US DOT, MC, KYU & GVW number. She is DOT & FMCSA compliant and ready to hit the road.
If you have any questions, we would be more than happy to help! Send us a message!