USDOT Number Sticker Decal Lettering Tips | Save Money & Avoid Trouble
USDOT Number Sticker Decal Lettering Tips | Save Money & Avoid Trouble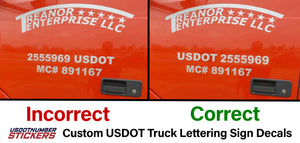 Displaying your US DOT number correctly is one of the most important things to do a trucker. You want to make sure you are compliant and follow all of the regulations set by the department of transportation.
In the first photo, this trucker is displaying their USDOT number incorrectly. He displays the number followed by the USDOT text "2555969 USDOT". This is incorrect, the USDOT lettering should be first followed by the assigned number "USDOT 2555969". You want to make sure you follow this regulation because you will get stopped by DOT and potentially face heavy fines. Stay compliant!
In photo number two, this semi trucker got into a huge accident, but his USDOT lettering number information stayed intact. This is great for authorities so they can investigate the accident/wreck and hold the correct individuals accountable for this accident. DOT officers can easily locate the DOT number and all of the company's information.