Professional USDOT Truck Lettering vs Do It Yourself Lettering | Shocking Difference
Professional USDOT Truck Lettering vs Do It Yourself Lettering | Shocking Difference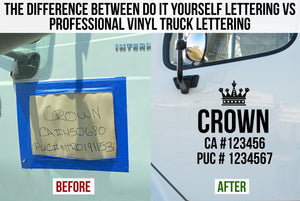 There is a huge aesthetic difference when it comes to do it yourself lettering and professional truck lettering. We get a lot of customers that write their regulation numbers on a piece of paper and tape it on their truck. While this is technically in compliance, the aesthetics are horrible.
The public will not trust a company that can't even get their truck lettered properly. Just look at the example below. The lettering looks unprofessional, cheap and uninviting.
Another thing to keep in mind is that what if the sign falls of and you get stopped by authorities? You have no excuse. You don't want to give DOT any reason to pull you over.
Professional vinyl lettering is a great way to look professional and get your business in compliance and get new customers. We always recommend going the professional route. We're the experts and would be happy to have your business.