Examples of USDOT Compliant USDOT Lettering Number Decal Stickers
Examples of USDOT Compliant USDOT Lettering Number Decal Stickers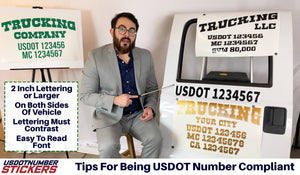 When displaying your USDOT number decal lettering you must keep a few items in mind.
Your USDOT number must be visible from a distance of 50 feet away and the lettering must be 2 inches in height or larger. The color must contrast with the color of your vehicle and you must use an easy to read font.
If you have any questions, we would be more than happy to help.