Are You Looking To Grow Your Business? Using A Custom Truck Door Decal Can Boost Leads & Customer Acquisition
Are You Looking To Grow Your Business? Using A Custom Truck Door Decal Can Boost Leads & Customer Acquisition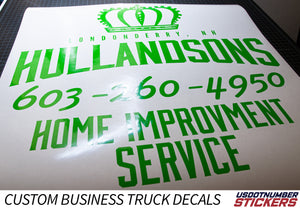 Do you have a small business and are you trying to generate leads and traffic? Whether you have a plumbing business, home improvement business, roofing company displaying your information outside of your commercial vehicle can help generate hundreds of monthly leads! Especially if you live in a big city.
We recommend you to display your phone number or website on your custom truck decal template to generate more leads. In any business there is fierce competition so you need do anything that will help you be ahead.
If you run your own website and use advertising such as pay per click, you'll understand that one click on google can be very expensive. The cost per click is dependent on the industry but you can expect to pay $1-$20 for each single click! You also need to understand that a click is not a guaranteed sale!
Displaying your business on your commercial vehicle is a one time fee (decal itself) that will continue to generate leads for your company/business.
It's a no brainer if you're serious about business.
Some truckers choose to display all of their crucial USDOT numbers and their phone number and website to potentially help them get more loads.
If you have any questions about advertising or USDOT regulation, our team would be more than happy to help!